Life had somehow crowned me 'caregiver'. With that, it also seemed to have thrown away the key to my free, single life as I had known for many decades. Life also taught me the value of community and reaching out for help!
December 2018, Mumbai, India
It's 1 am and I hear faint sounds of the walker moving in the room across. I am on instant high alert, press my ears to the bedroom door, and listen for any signs of aggression. I have a helper (maushi) now and could leave this business to her but I am two years too deep in this to cut that chord. I toss and turn praying for silence this night, finally fall asleep around 3 am. As soon as my eyes open which is around 7 am, I leave my room and find maushi in the kitchen.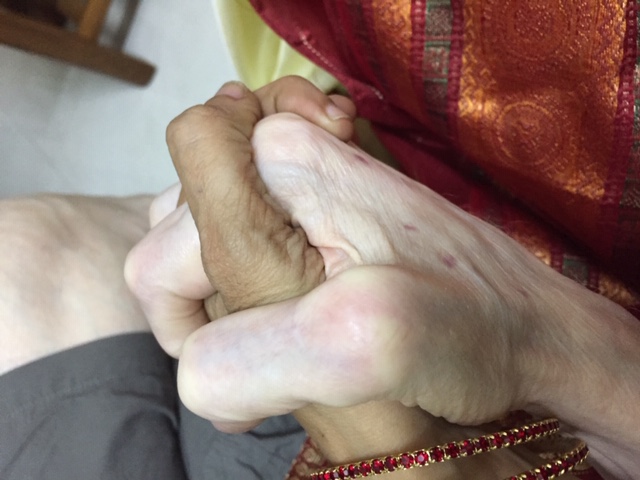 I ask: "Soye kya? (Did he sleep?). I heard you guys talking."
Maushi: "Yes, but he managed to unlock the door and tried to get out."
Maushi continues to give me a report of the night, which she said was relatively mild.
Her accounts are often inconsistent, but I have learned to read between the lines and take in what is important. She will leave soon, then my mom and I will be on duty for a couple of hours until Leela, our daytime help, arrives.
I glance into his room making a quick mental note that he is wearing the same clothes as the previous night, which means there were no accidents. He is still sleeping but sits up within five minutes. He usually drinks a glass of warm milk then and goes back to sleep. Most days, he will greet me with a broad, toothless smile enough to melt my heart, but not today. He looks at me as if I were a stranger. I give him a hug and a kiss on his forehead. I repeatedly point to the pillow and touch it trying to get him to go back to sleep. He stares at the pillow like it is an unfamiliar object. There are days when he will go through the routine of removing the pillow covers, bed sheets, even his pants in an endless loop. Not today.
He looks at the pillow and asks, "Where's the baby?"
"There is no baby here, Appa," I answer.
He is now on repeat, so I decide to change the subject.
I ask him if he wants milk, but he just gives me an empty stare. By now, I have seen this sort of unresponsiveness a few times to consider it normal and temporary. I leave the room knowing we have to check on him every few minutes, in case he needs to go to the bathroom.
A little while later, I enter his room again, but he is angry now and says he wants to have nothing to do with me. A half hour later, I am his friend again. He lets me seat him at the dining table for his breakfast and says in wonder, "There is so much research happening in every field. Unbelievable!" The refrain has changed from baby to research.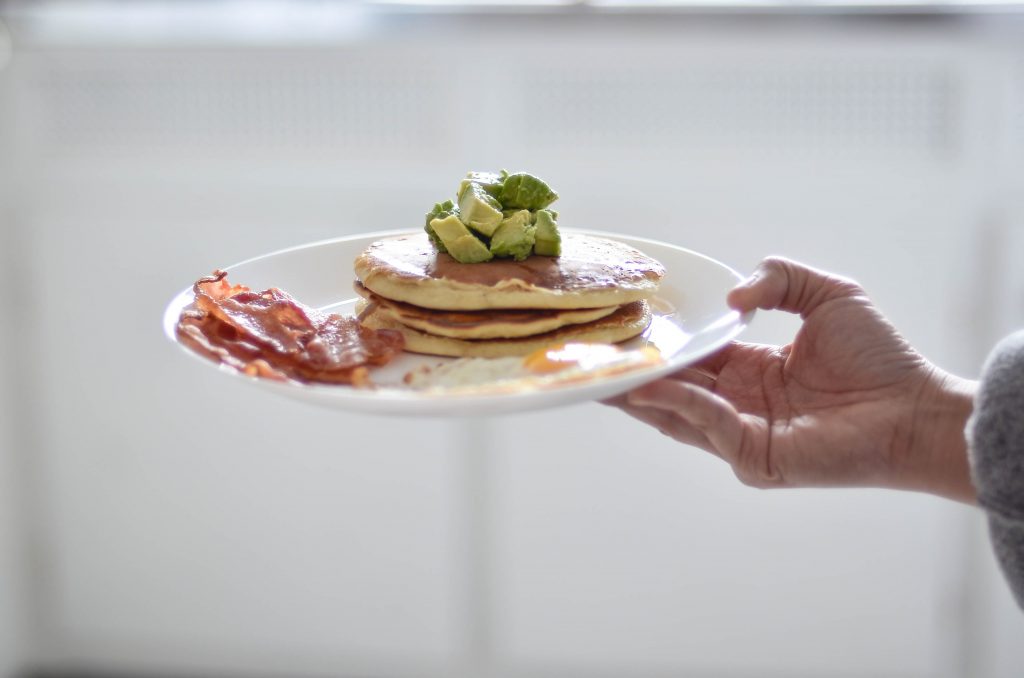 Today's breakfast is adai, a moderately spicy pancake made with lentil batter. He seemed to prefer food on the blander side these days, but I have learned to lace his food with something sweet for an easier dining experience. Nutella usually does the trick. We are lucky he is on very few medications and not diabetic.
Monday, October 2, 2017, Michigan, USA
I turned in my two weeks' notice at work. I had worked there as Manager of Financial Systems for nearly four years. I must have begun to lose it a bit as when I woke up that morning, I had no intention of quitting!
It had been over a year since my dad had started exhibiting signs of dementia, such as, sundowning, compulsive folding, forgetting where the bathroom was in the house, etc. He had always been a confident and capable man, but he would often feel insecure in my absence. As soon as I entered, like a lost child he would say, "My heart was racing all this time. Now that you are back, I am able to breathe." My mom was nearing 90 too and I didn't feel comfortable leaving them alone for more than a few hours.
One evening after dinner, he suddenly refused to acknowledge my mom as his wife. That was a first.
"I have only one wife and I have always been faithful to her," he said.
My mom had to sleep in a different room that night.
Next morning at breakfast I asked, "Who is this?"
He said, "My wife, of course!"
Still, compared to now, he wasn't that bad then. None of this wandering or "I want to go home" rants that drive me crazy. I was just less experienced.
December 2017: Finding Support
The past few months had been a very lonely hell. There are no universities for this sort of thing, no training schools to prepare us. That I was known as a "caregiver" was new to me until I started to look for the company of fellow sufferers. I found them on social media, in Facebook support groups where we could vent, share information, and ask questions. I strangely found comfort that my dad wasn't as bad as some of the other LOs (loved ones) discussed the group. It wasn't lost on me that it could get much worse and I constantly worried about how I would prepare myself and manage.
By sheer coincidence, I met another care-giving family that lived within a mile of where I was. The family consisted of an elderly couple in their 80s, their son (the primary caregiver) and his wife. The son had quit his job over a year ago to stay home and take care of his mom. She suffered from severe hallucinations due to dementia and rarely slept at night. This family had been through far worse at this point and had much more experience in caregiving as well as about available resources, such as the Farmington Hills Caregiver's Support Group. I also came to know about free classes offered to caregivers by the Area Agency on Aging. I was able to partially attend one of their courses before I left the US.
I attended a few of the support group's biweekly meetings. The members were compassionate and generous in sharing information. Most of them were caring for an LO (spouse, parent, sibling, friend, etc.) with dementia, either at home or in a facility. Some had already lost their LO. They called themselves 'caregavers'. The group's moderator, Mary, made sure everyone got a chance to share and also sent out e-mails about upcoming events. The brownies she brought to each meeting was a delicious incentive to attend, in case anyone had second thoughts! Occasionally, we had experts come and speak to us on elder care topics such as long-term care insurance, wills, and powers of attorney. Once, we had a counselor guide us through meditation and provide tips for stress release (for example, breathing exercises).
By now, I had decided to move to India with my parents. If I had known about the support group sooner, perhaps I would have found the strength to continue in the US. Mary tried to dissuade me from making the move.
"I worry about you, Geeta. You need to take care of yourself," she would say.
Most caregivers tend to neglect their own physical and mental well-being, I was no exception. It had been ages since I had taken a vacation, even had an overnight stay somewhere without my parents. I had made plans to go on my first (Mediterranean) cruise in December but canceled my flight and cruise reservations a month before departure to be near dad.
April 2018 – The Big Move!
After over 30 years in the US, I moved to Mumbai, India with my parents. I had been warned of the consequences of making major geographical moves, but I believed it would make in-home, care assistance possible for my dad. And, I needed to travel while my parents still could.
Related links: